Great British Sewing Bee :: Series 3, Episode 1, Trousers
Wooohooooo, The Great British Sewing Bee is back! Did you? Did you? Did you see it?
For this first week the contestants were asked to make a pair of trousers, re-fashion a denim shirt and make a summer dress.
Sewing from a Pattern: Trousers
The trouser pattern that the contestants used I think comes from the new Great British Sewing Bee book that is due out later this month. Check out your local book store or Amazon
Don't be scared of inserting an invisible zipper. They aren't as scary as they seem. Here are two tutorials, on that uses an invisible zipper foot and one that doesn't
I also have this link for inserting an invisible zipper without an invisible zipper foot.
French seams are a lovely way to finish off the insides of a garment. I use them a lot with cotton fabrics as this method is so great at hiding those little fraying threads.
Binding seams is also a rather neat way of finishing off your raw edges. I love using a contrasting colour on the insides of garments….always makes me smile.
If you are feeling extra fancy you could even make your own bias binding
Alteration Challenge: Customising a Denim Shirt 
There were a lot of skirts made from the denim shirts that the contestants were supplied with. What do you think you would have made? How about these cute bears….not sure they would have counted as a garment though!
I do quite like this peplum top that Zoe made. There's some more 'inspiration' and a few projects on my Great British Sewign Bee pinterest board
Create a Made to Measure Garment: A Summer Dress
The contestants all had to make a summer dress and there was plenty of patterned fabric floating about.
I'll not lie to you, pattern matching can be a tricky business, you really need to take time to get the best results….oh, and make sure that you buy a little extra fabric than the pattern calls for to give you some room to move your pattern pieces around when needed.
As usual, don't forget that there are a load more pins on my Great British Sewing Bee pinterest board to support the series (including series 1 and 2)
Also don't forget to check out the BBC website for clips from The Great British Sewing bee, profiles of the contestants and links to previous episodes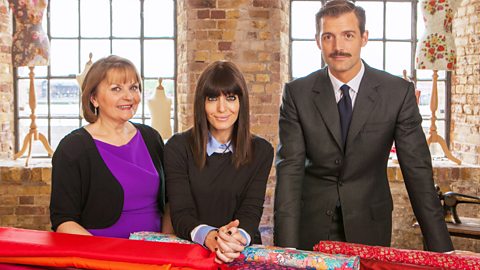 Next week the contestants are sewing on a smaller scale…get ready to get small!
 ::
 The newsletter is a great way to keep up to date with new patterns, sign up here
::
Follow me on Bloglovin to keep up to date with all my blog posts